General Purpose Conveyor Belts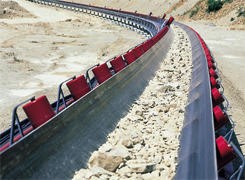 General Purpose belts are the workhorses in modern industries where conveyor belts have proven to be the most reliable and cost effective mode of transport for bulk raw materials or finished goods. Our belts are designed to suit a wide range of applications for bulk material handling.
The cover rubber is specially formulated and designed with enhanced cut, gouge & wear properties to withstand yet perform while handling highly abrasive material or harsh conditions and impact. These belts are normally used for transporting crushed rock, limestone, coal, iron ore, sand, cement, wood chips, furnace slag, aggregate etc.